Description
A One-Stop Solution For Carrying Your Miniatures – Now With Easier Handling, Greater Flexibility And Optional Support For Magnetized Models At Over 25% Off!
Carry any mini you want, save room storing models, save money on foam and stop goofing around with magnets when you don't have to. The ShapeShift tray is a user-adjustable mechanism that grabs minis by the base and doesn't let go until you reach the battlefield. It can hold bases of various shapes and sizes, allowing you to transport even the most unwieldy models… But it will do just fine with standard troops as well.
And now, the ShapeShift tray has evolved to get even more of your models to the battlefield. You can carry magnetized troops and even some models without bases! Swarms of infantry, giant monsters, tanks or vehicles – no matter the shape, a single tray can be customized to fit any option that isn't larger than the tray itself. And with several at your disposal, plus an Overlord bag to safely transport them in, you won't ever have to worry about getting your armies or squads to the battlefield again.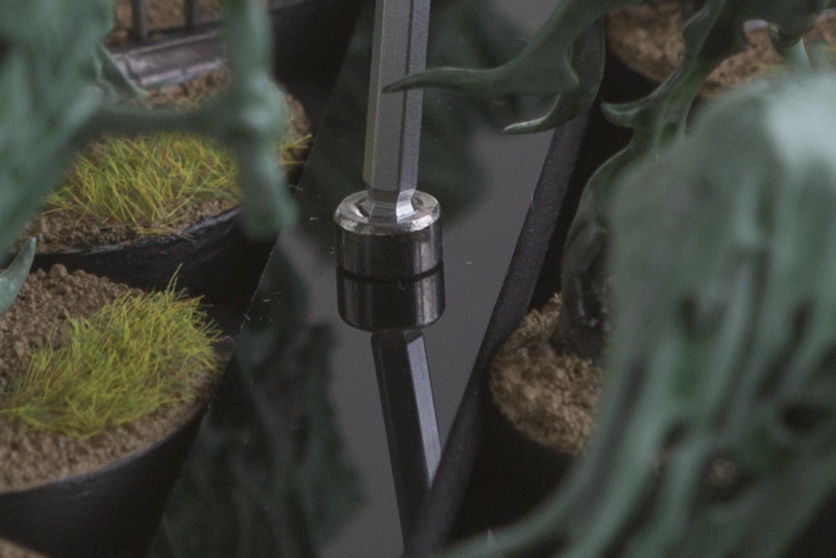 Flexible grips
Line up a row of same-sized bases between two sliders and bolt the models down using a hex key.
In this simple way you can adjust ShapeShift trays to fit your entire collection. Our system allows for minimalism – you will only need enough trays to fit your largest army, even if, for example, you own 5 or 7 factions spread across 3 gaming systems. Consider this tray, loaded with infantry from two different armies: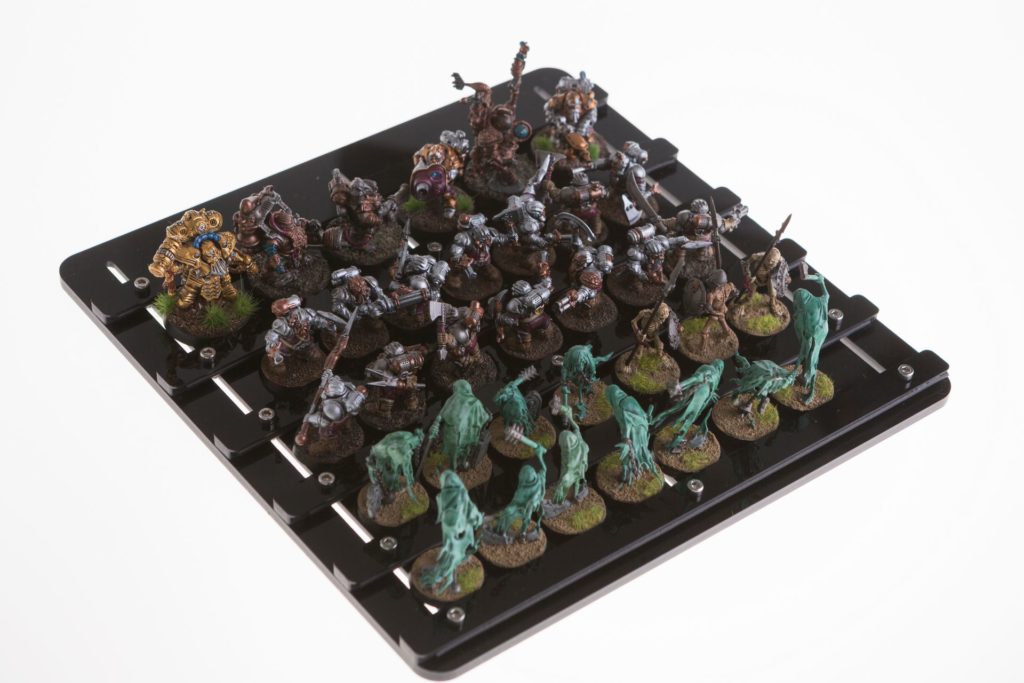 Here it is carrying a monster and a vampiric chariot with a cauldron of blood: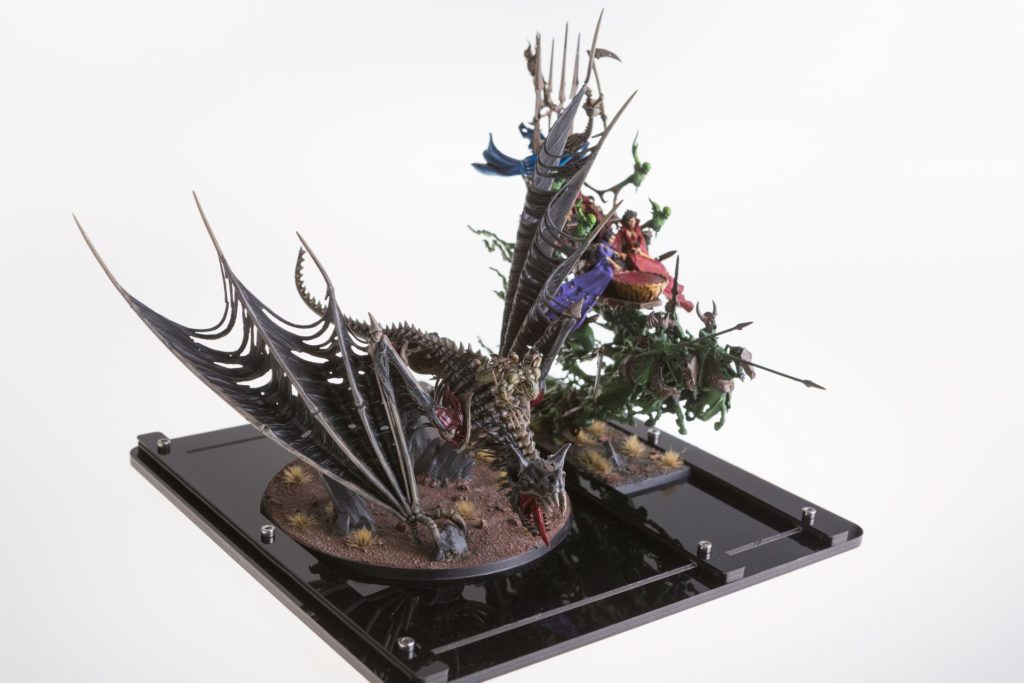 Note how one base is round and the other rectangular – for the ShapeShift Evo, it makes no difference. Both can be safely held sideways or even upside down. Consider this picture of a first-generation ShapeShift tray holding a large mech: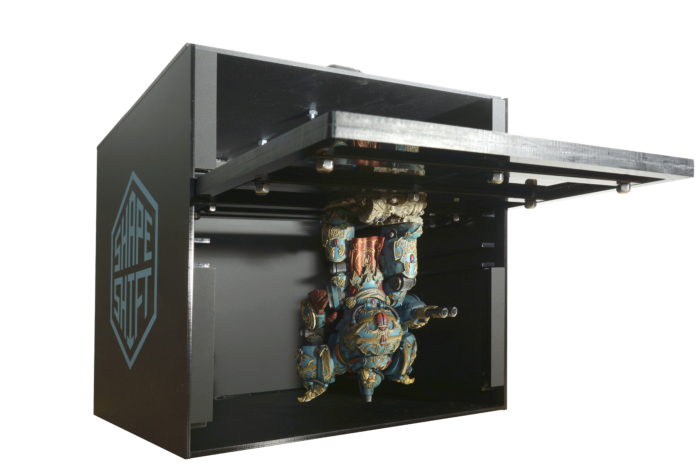 When you clamp down your minis, the point of contact is a soft, foam-like rubber that takes the shape of the surface it's holding. Behind it, there's a rigid acrylic bar that adds a stiff support to hold the miniature down.
That's a great combo, for a few reasons.
One, since the rubber deforms easily, it doesn't matter what it's holding. The profile of the model's base doesn't determine how much contact there is between it and the bar holding the miniature. Indeed, some models won't even need a base to be held between the tray's sliders. At the same time, the rigid acrylic won't let the miniature escape the slider's rubbery clutches. Once the model is clamped down, it stays put.
Two, the softer rubber isn't abrasive. Since there's a larger buffer between the miniature and the acrylic bar, layers of paint aren't likely to be damaged by the sliders in transport.
Three, it's easy to file minis with different-sized bases in one row. So maybe you have models on resin scenic bases that are supposed to be the same as your standard, plastic bases. Chances are, the resin bases will be a little smaller than the plastic ones due to technological differences. Our new rubber gives you 2mm of an extra buffer zone to makes sure the bases are all held securely.
Keys instead of wing nuts
Wing nuts in the original ShapeShift trays were a great way fasten and unfasten models with your fingers. But were they? Several users complained that the wings would bang against miniatures. And reaching in with your hands to operate them risked damaging the clamped-down models.
Now, each tray comes with a key, and there are no wing nuts in sight. The hex keys fit in the tightest spots, provide leverage, can be used at an angle and keep your hands away from minis. And the bolt heads are so small that they won't collide with your miniatures.
It's a great way to ensure a tight grip with improved handling and control over your trays. And since you get one with each tray, you can lose a couple and still be fine!
Magnet-Friendly

Unlike it's predecessor, the ShapeShift Evo tray doesn't have a frame running around the tray. Instead, its sliders extend all the way to the edges of the tray to ensure that it can be carried in our bags and cases. Since that gives easier access to the tray from all sides, we now offer steel sheet cut to various sizes, easily attachable by clamping down with the sliders.
You can convert the Evo tray to carry your magnetized minis at any time. And if you want to switch back to using the ShapeShift system, you simply detach the steel plate. Please note that sheets are sold separately!
How To Use It
This demo shows you how to assemble an Evo tray, both without the optional steel plates and with them:
More Colours
The "classic" ShapeShift tray is black. It's elegant, unintrusive and yet menacing and cool. Black is the colour of war, the absence of light. It fits practically all army painting schemes. It remains our default option, but you now have two more choices – white and red.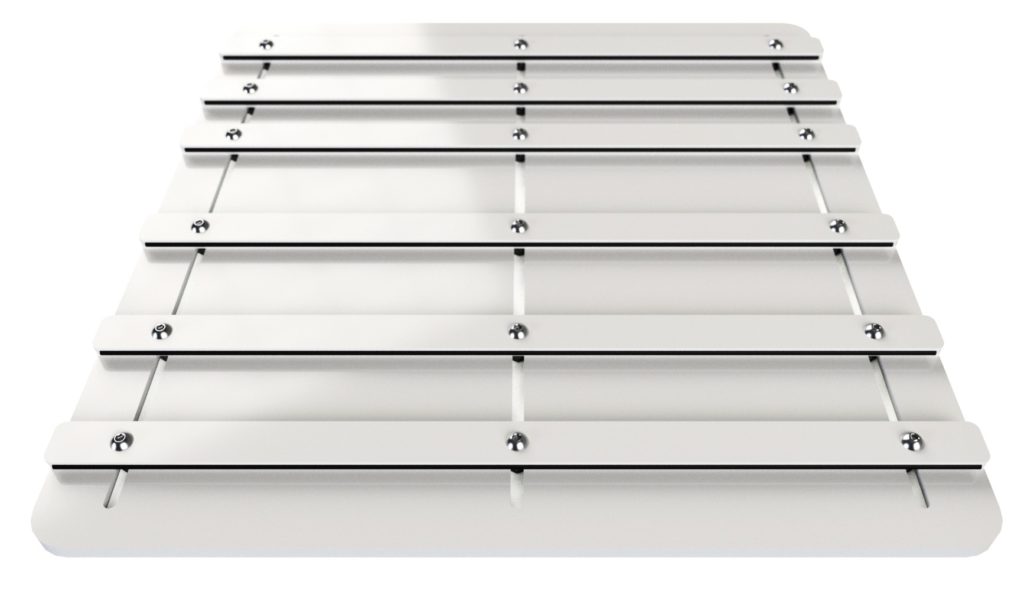 White can work well for sci-fi forces, giving off an air of clinical futurism associated with labs and space ships. It's also elegant and looks well under most circumstances.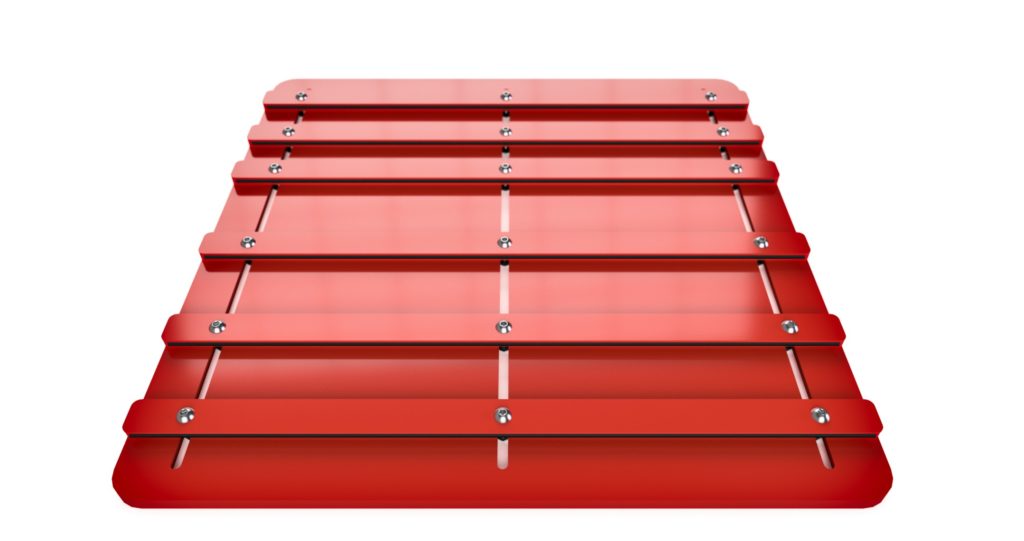 Red is the colour of blood, aggression and anger. Let's be honest, it won't fit most armies but it might just be perfect for yours!
Both extra colour options will add 3 days to the time it takes to prepare your order. White or red stock might not be on hand at a given moment and we might need time to get some.
Massive Savings!
With the Evo, we made some big changes to our original trays. As a result, the new ones require less labor and materials. We could have kept the old price of 25€ and pocket the difference, but we're transferring the savings to you.
Over a quarter off the previous price of a ShapeShift tray! More precisely, you save €7.05 on each tray versus the old ones, translating to a 28,2% price decrease. The coloured options are a bit more expensive, but still over 20% cheaper.
"Why would anyone do this?" asked the hypothetical business-savvy reader. "Shouldn't the Evo be more expensive?" Well, yes, it should be more expensive. But we want you to buy it! The Evo was just launched, Christmas is just around the corner. The price will not be this low forever, so get it now and enjoy the savings!
The Kit
Each ShapeShift Evo kit consists of:
1 x Tray
6 x ShapeShift Sliders
18 x Pairs of Steel Nuts and Bolts (3 pairs per slider)
1 x Hex Key
Trays are 230x230mm squares machined out of acrylic. Sliders are 230 long and 12mm wide, also machined from acrylic, with a strip of soft rubber glued to each side. An empty space of 10mm (roughly 1/2 inch) must be left on both sides of the tray to allow for inserting into the slots of a ShapeShift case or bag. A minimum of two sliders must be attached to the tray for it to fit in our bags and cases.
Capacity
The ShapeShift Evo has a similar capacity to the original ShapeShift tray.
| Base Size | NUMBER OF MODELS |
| --- | --- |
| 20mm | 70 |
| 25mm | 48 |
| 30mm | 35 |
| 40mm | 20 |
| 50mm | 12 |
| 120mm | 1 – with a lot of space for smaller minis |
Note:
ShapeShift Evo trays require assembly. Once you decide how many sliders you want on each tray, you have to attach them with the provided nuts, bolts and keys (see the video above). Please allow between 3-5 days before an order containing this product is shipped. White and red trays may take longer, depending on the availability of coloured stock at a given time.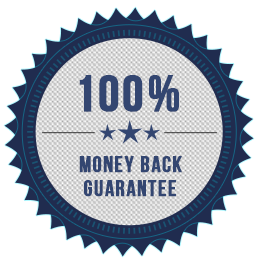 All your purchases in our store are 100% risk free – you can return items you're not happy with within 14 days and we'll refund your money. If you're not satisfied, you'll get your money back. See our Terms and Conditions for details.
Warning: You will need the Trailblazer case or the Overlord bag to carry your trays to games.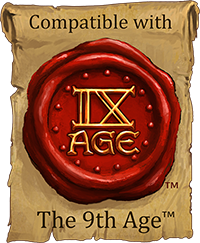 Phobos Foundry is proud to support the 9th Age. ShapeShift trays allow 9th Age generals to bolster their forces with any models they please, without ever worrying about transportation. With the debate about bases for warmachines finally settled, 9th Age players are guaranteed to be able to carry any miniature in any army using the ShapeShift Evo tray.